DJ Set
INSTANT RAVE // Return Edition Vol. 02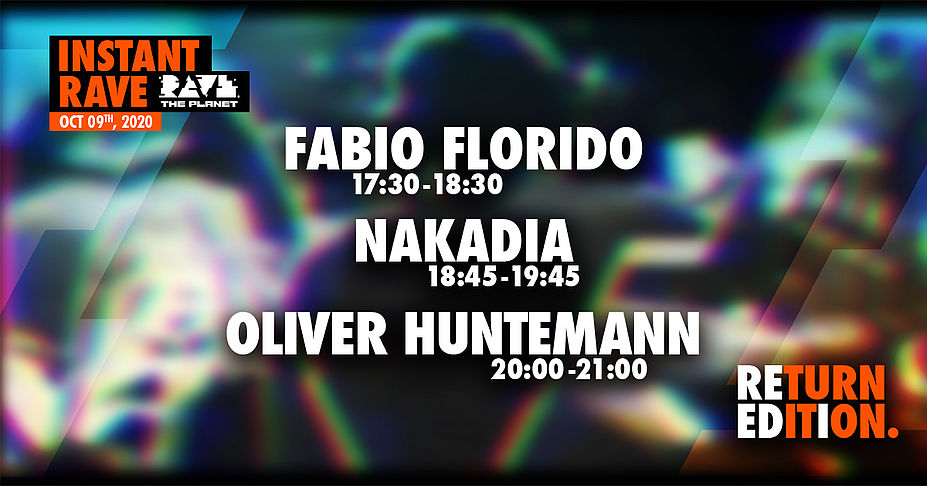 17:30-18:30 Fabio Florido
18:45-19:45 Nakadia
20:00-21:00 Oliver Huntemann

𝘽𝙧𝙤𝙖𝙙𝙘𝙖𝙨𝙩𝙞𝙣𝙜 𝙤𝙣
💥 www.youtube.com/ravetheplanet
💥 www.twitch.tv/ravetheplanetlive
💥 www.mixcloud.com/RaveThePlanetgGmbH
💥 www.hearthis.at/ravetheplanet
💥 www.playdj.tv/dj/ravetheplanet

𝙀𝙉𝙂: We extra-gild the golden October with a splendid selection of sets from all previous 27 Instant Raves. Newly assembled, just for your enjoyment. Welcome to the RETURN EDITION - turn it on!

𝘿𝙀: Wir vergolden euch den Oktober, mit einer tollen Auswahl von Sets aus allen bisherigen 27 Instant Raves. Neu zusammengestellt, nur für euch! Willkommen zur RETURN EDITION – turn it on!

To overview