Theatre Play
"What I wanted to tell you" - an Audiotour through your home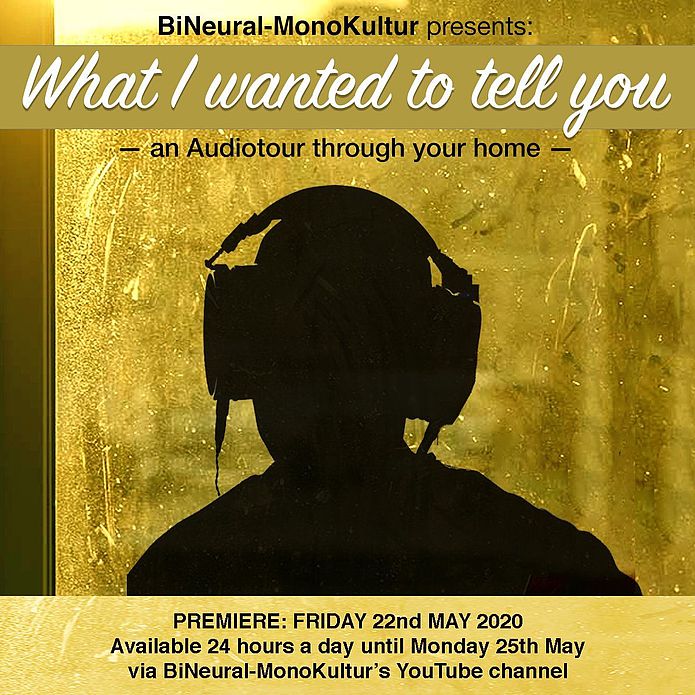 Julia is house-sitting for her friend Irene. As the days go by, unusual things start happening in the apartment. One day, she receives an audio message from Irene asking her for a peculiar favour.

"What I wanted to tell you" is an interactive audio experience. It is an individual audio tour for you to do at home. To participate, all you have to do is put in your earphones, follow the instructions you receive through the audio and step into the story.
Loosely inspired by "The Fall of the House of Usher" by Edgar Alan Poe and with an air of "Robinson Crusoe" by Daniel Defoe, this show takes you on a little journey through your home.

WHAT YOU NEED TO PARTICIPATE:
- Earphones and a mobile phone with internet connection

HOW TO ACCESS THE SHOW:
- Enter the BiNeural-MonoKultur YouTube channel
→ https://www.youtube.com/user/bineuralmonokultur
→ The show will be available from midnight on Thursday 21st of May to midnight on Monday 25th of May (Argentinian time)
→ You can access the show at any time during this period.

SHOW RUNNING TIME:
approx. 25 minutes.

HOW CAN I CONTRIBUTE?
We are passing aroung a 'virtual hat': a suggested contribution of $/£/€5.
To overview