Exhibition
𝙁𝙀𝙀𝙇𝙄𝙉𝙂𝙎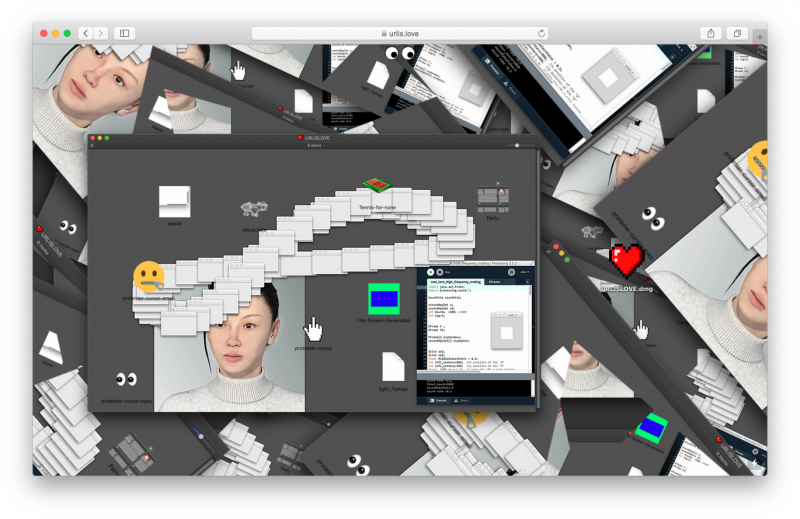 EXHIBITION: November 19, 2020 – February 21, 2021
ONLINE VENUE: Mozilla Hubs – https://hubs.mozilla.com/TqygwLx/feelings/

𝘀𝘆𝗻𝘁𝗵𝗲𝘀𝗶𝘀 𝗴𝗮𝗹𝗹𝗲𝗿𝘆 presents FEELINGS, a digital exhibition of works by six artists. Curated by 𝘑𝘦𝘧𝘧𝘳𝘦𝘺 𝘎𝘳𝘶𝘯𝘵𝘩𝘢𝘯𝘦𝘳 and 𝘎𝘦𝘰𝘳𝘨𝘦 𝘝𝘪𝘵𝘢𝘭𝘦, the exhibition will go live on Mozilla Hubs November 19, 2020 and run through February 21, 2021. Scheduled events and walkthroughs will also take place during the course of the exhibition.
The prospect of a collective digital space has often been synonymous with new realms of freedom and opportunities for community. In the wake of the ongoing global pandemic, however, digital spaces seem more and more filled out with apps that preserve social distance while tethering us to a reductive image of collectivity. This has impacted how our emotions are registered and communicated. In the teeth of all this, 𝙁𝙀𝙀𝙇𝙄𝙉𝙂𝙎 brings together digital works by 𝗮𝗮𝗮𝗷𝗶𝗮𝗼, 𝗠𝗮𝘁𝘁𝗵𝗲𝘄 𝗚𝗮𝗻𝘁𝘁, 𝗖𝗹𝗮𝘂𝗱𝗶𝗮 𝗛𝗮𝗿𝘁, 𝗟𝗮𝗝𝘂𝗻𝗲́ 𝗠𝗰𝗠𝗶𝗹𝗹𝗶𝗮𝗻, 𝗠𝗮𝗿𝘁𝗶𝗻𝗮 𝗠𝗲𝗻𝗲𝗴𝗼𝗻, 𝗞𝗮𝘁𝗵𝗶 𝗦𝗰𝗵𝘂𝗹𝘇.
To overview