DJ Set
INSTANT RAVE #40 w/ Sportclub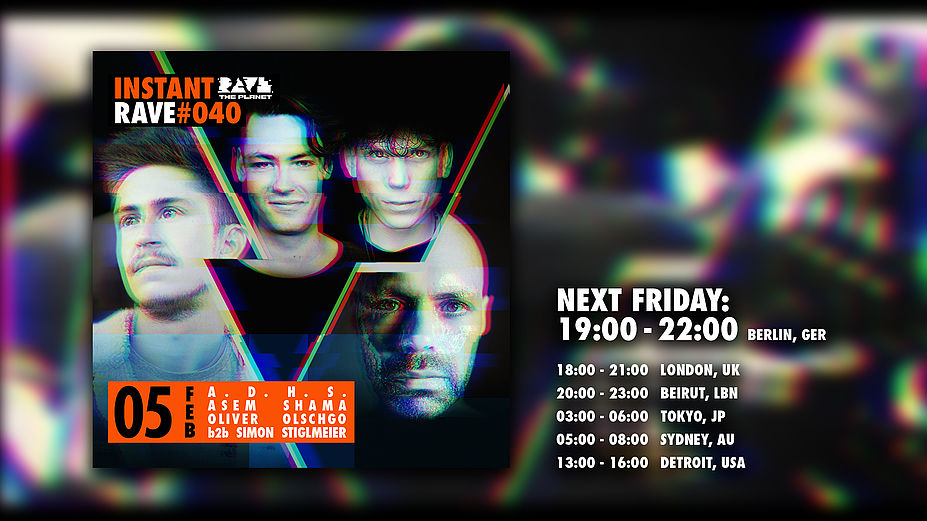 19:00 Oliver Olschgo B2B Simon Stiglmeier
20:00 Asem Shama
21:00 A.D.H.S.

𝙂𝙚𝙩 𝙮𝙤𝙪𝙧 𝙧𝙪𝙣𝙣𝙞𝙣𝙜 𝙨𝙝𝙤𝙚𝙨 𝙧𝙚𝙖𝙙𝙮 𝙛𝙤𝙧 𝙄𝙣𝙨𝙩𝙖𝙣𝙩 𝙍𝙖𝙫𝙚 #040 𝙬𝙞𝙩𝙝 𝙩𝙝𝙚 𝙎𝙥𝙤𝙧𝙩𝙘𝙡𝙪𝙗 𝙩𝙚𝙖𝙢! 𝙏𝙝𝙞𝙨 𝙤𝙣𝙚 𝙬𝙞𝙡𝙡 𝙗𝙚 𝙖 𝙧𝙚𝙖𝙡 𝙏𝙚𝙘𝙝𝙣𝙤 𝙬𝙤𝙧𝙠𝙤𝙪𝙩!

______________ 𝗦𝗣𝗢𝗥𝗧𝗖𝗟𝗨𝗕 𝗥𝗘𝗖𝗢𝗥𝗗𝗦
The Berlin based label Sportclub was founded in 2005 by Asem Shama & Axel Bartsch. Both wanted to build a platform where they're fully in control and can release whatever they want. The imprint's sound ranges from Minimal Techno and Tech-House in the earlier days to banging but still deep Techno. As Axel Bartsch left the ship in 2018 for personal reasons, it was time to get some fresh brains on board. In 2020 Oliver Olschgo and Simon Stiglmeier joined the Label with their creative input. Last summer they produced 2 remarkable label open-airs. A 10 track label compilation will drop this March 2021.

To overview